MECAROANNE has been a supplier for the ceramic industry (tile and brick manufacturing, sanitary ware manufacturing) and the mineral industry (clay, kaolin, talc, gypsum, calcite, fluorite, apatite, feldspar quarries, etc.) for more than 100 years.
Its extensive experience in the field of volume reduction of mineral materials has allowed it to diversify its applications in the chemical, pharmaceutical, nuclear, steel, construction materials and glassware industries,  to name a few, as well as in the industrial waste recycling sector.
MECAROANNE's renown is primarily due to its toothed roll crushers. By design, these crushers can process wet, soft and clogging products as well as hard, dry and friable products. A third shaft in the upper position makes it possible to pre-crush large materials and to avoid arching. Slow operating speeds limit the production of dust. The production capacity of these machines can range from 0.3 to 200 T/h, for a grain size reduction rate > 10.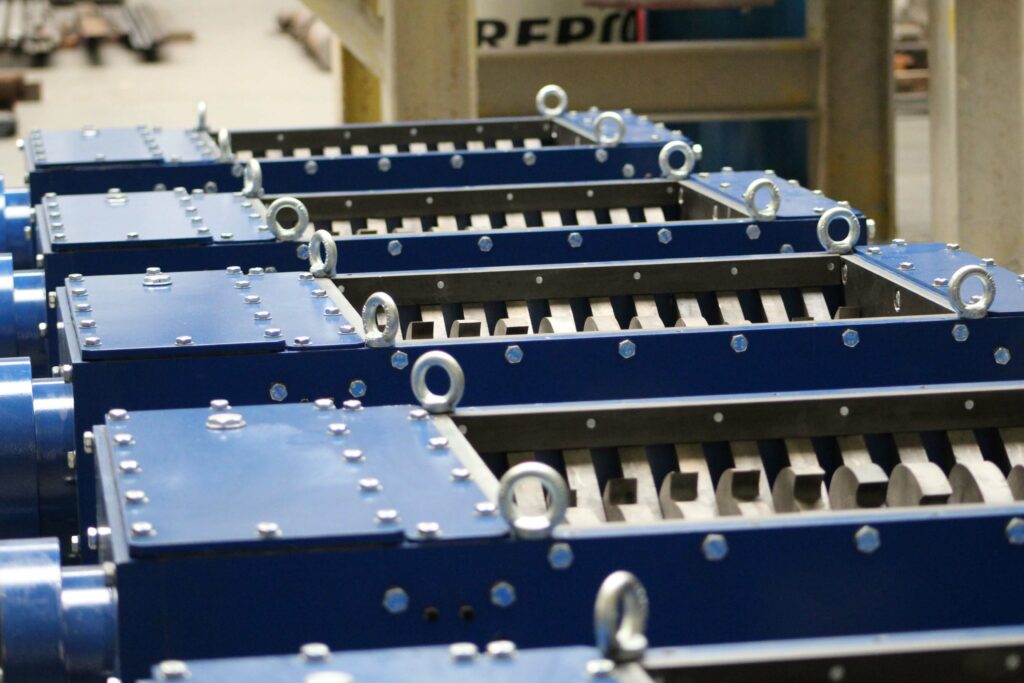 Notre société fabrique des broyeurs, émotteurs, concasseurs, déchiqueteurs pour les professionnels de l'industrie.
Nos machines servent à recycler ou à réduire le volume final des matériaux traités.
Au fil des années, nous avons perfectionné nos techniques de fabrication et nous disposons aujourd'hui d'une gamme de machines fiables, robustes et simples d'utilisation.
La notoriété de MECAROANNE est avant tout due à ses Broyeurs à Rotors Dentés. De par leur conception, ces broyeurs concasseurs peuvent traiter aussi bien des produits humides, mous et colmatants, que des produits durs, secs et friables. Un troisième arbre en position supérieure, permet de préconcasser les matériaux de grandes dimensions et d'éviter un éventuel effet de voûte. Les vitesses lentes de fonctionnement limitent la production de poussières. La capacité de production de ces machines peut aller de 0,3 à 200 T/h, pour un taux de réduction granulométrique de 10 à 30.
Notre laboratoire d'essai
Notre laboratoire d'essais nous permet de tester à petite échelle, l'ensemble des technologies de broyage, émottage, concassage maîtrisées par MECAROANNE, afin de valider faisabilité, cahier des charges client, et dimensionnement machine. En fonction des résultats observés, nous pouvons ainsi adapter l'ensemble des paramètres de la machine avant de lancer la conception finale du produit.  
Vous avez besoin d'une machine sur-mesure ? Nous pouvons mettre au point un produit adapté à votre cahier des charges.